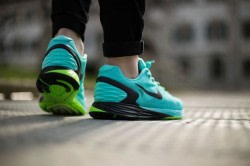 Also known as acquired flat foot disorder or fallen arches, the unfortunate and very painful deformity affects approximately 20-30% of the worlds population. If you are suffering from pain in the heel, arch, midfoot, ankles, knees, hips or lower back, it may be due to a collapsed arch.
At shoefinale.com we aim to help find the ideal solution for people with issues such as plantar fasciitis, bunions, and also a flat foot. So, if you have fallen arches do not despair, because there are plenty of specialist orthotic footwear out there to help cater for your condition.
Our informative buying guide and unbiased shoe reviews should hopefully help in your search for finding the best shoes for flat feet which can help reduce your pain and discomfort. We often pick the top product from a selection of low, mid and high price ranges. To keep it fair we often try to choose different manufacturers but sometimes this isn't possible, so we'll end up reviewing 2 or 3 of the same brand.
The 10 Best Shoes For Flat Feet
An Effective Buying Guide
The simplest, cheapest and effective way of treating flat foot pain is by wearing the right footwear. This is the utmost important step forward for anyone with fallen arches. See below for some characteristics of what experts say would make an ideal pair of flat feet shoes:
New Shoes
As footwear gets old and out of shape due to continual usage they will gradually loosen in areas which are required to provide that all important support. If your shoes are no longer providing comfort and padding it's time to buy a new pair. The average life of a pair of running shoes is 300 miles. Though this may sound like a high figure, in reality it's not much for the average walker or daily runner. On the outside, they may look new but it's the condition of the interior which ultimately determines whether the shoe is finished or not. So, even if you have been wearing the best running shoes for flat feet more than approximately 300 miles, perhaps it's time to replace them.
Stabilizing The Heel
It's important that there isn't too much play or roll in the heel whilst walking or running, so make sure the heel area of your shoe is stiff, firm and relatively close to your heel edges. Too loose is bad, and too tight is also bad, so look for something in-between. Finding a balance can be difficult, but a large majority of podiatrist designed flat feet shoes fit as expected due to the expert opinions that go into designing them.
Durable and Rigid
Fallen arches tend to lack stability, so they need a durable and rigid shoe which has no play and doesn't twist and turn with every step. In general, good footwear will not bend in the middle; only buy footwear that do not bend except at the toe. If there is too much bend and twist, eventually it will reach the affected midfoot area and pain in the foot will be excessive thus causing discomfort with every step.

Good Arch Support
The best shoes for flat feet are most certainly always the shoes with good arch support. Without this your fallen arches will continue to make full contact with the footbed; the tendons and ligaments will continue to be strained and cause unbearable pain in feet. Arches in shoes lift the foot in the required area thus taking the pressure off the upper body weight. Think of it as though the arches are like foundations in buildings, purposed for carrying your whole body weight. Some footwear, especially mens formal and womens heels have no arches on their insoles. This is not the type of footwear you should be wearing if you have a collapsed arch. Usually it's running sneakers which which prove to be the best shoes for fallen arches as they tend to have good arch support compared to everyday fashion shoes. However, there are other types of footwear which are just as good, but these kind of flat feet shoes have usually been designed with podiatrist input and specifically targeted for people with collapsed arches. This latter type is most commonly associated with walking as opposed to the complex and expensive research which goes into the manufacturing of the running shoes mentioned earlier.
Using Orthotic Inserts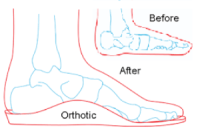 Sometimes it's just not enough even when you think perhaps you already have perfect footwear at your disposal. They may be new shoes, or look to have decent arches, or perhaps they really are supposed to be good shoes for flat feet. In which case suppose you can remove the original footbed and replace with separately purchasable custom orthotics. Occasionally you may find that having specialist orthotics is required to help reduce pain; infact they work tremendously well. This is because orthotics help distribute weight and pressure by offering additional arch support whilst walking, standing, and running.
Listen To The Experts
Dr Scott Kilberg discusses in detail how to select the best shoes for flat feet.
The Top 10 Best Shoes For Flat Feet In 2017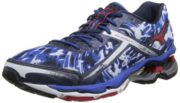 Mizuno has unveiled one of their greatest creations ever, the Wave Creation 15. These running sneakers are made of imported synthetic materials, even the sole is synthetic. With 1 inch of platform height and flex grooves for the articulated forefoot, you are sure to enjoy any activity whether walking, running, or working out. Using lightweight material, Mizuno designed a neutral midsole and a Smooth Ride fluid motion that most importantly offers superior comfort and support which ultimately makes them a superior choice of flat feet shoes. The upper is created using a flexible mesh dynamotion fit technology, whilst the signature Infinity Wave design ensures maximum flexibility. The Wave Creation 15 comes in several colors and is available in both a mens and womens version in numerous variations.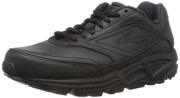 Brooks shoes may be internationally considered one of the top rated and most popular running shoes, but they also produce excellent shoes for walking too. The Brooks Addiction walking shoes for women is available in white, black and bone, and for men is available in black, brown suede and white. It's one of those additions which caused much hype when released. They are fairly priced and for the money you cannot complain given the amount of pros over cons. Designed to provide strong support, and a reliable, slip-resistant outsole mean these have all the traction you need. The podiatrist recommended Addiction's provide perfect low arch support, combined with an award winning midsole comfort make these one of the best walking shoes for flat feet.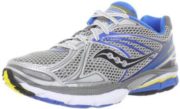 This Saucony Hurricane 15 is no doubt a perfect choice for both men or women who are after a pair of the best shoes for flat feet. The imported synthetic material offers a powergrid midsole for excellent support; the frame provides a heel-locking technology for extra stability whilst the synthetic sole is designed for those that suffer from overpronation. Saucony designed the Hurricane 15 to be lightweight and offering superior support to those that suffer from flat foot pain. It was engineered with the active runner in mind and Saucony made sure to minimize the overall bulk of the shoe but still ensure the proper amount of cushioning. This means that you have lightweight sneakers designed to keep you moving and active whilst being a pain free pair of flat feet shoes.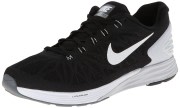 Weighing in at only 2 pounds, the Nike Lunarglide 6 are extremely lightweight sneakers which are quite possibly rated one of the best running shoes for flat feet, but on the flipside they're also very good walking shoes for the money due to the subtle design and amazing build quality. Talking about design, if you're the indecisive type you may struggle to choose from the 28 different mens variants, and there are even more choices for women. They are supportive, durable, stylish and come available for both sexes depending on your choice of color. The external aesthetics hasn't been sacrificed or neglected in any way even with the emphasis on comfort and internal orthopedic support. This shoe hasn't fallen behind when it comes to research and development; it's perfect for overpronation and is from a trusted manufacturer. Overall, the Lunarglide 6 is a highly rated all rounder which is adored by all who own a pair.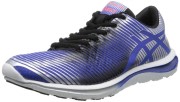 The Asics Gel range is an extremely adequate pair of flat feet shoes which has added much kudos to the already top end manufacturer. Full of detailed design and made of all the perfect materials that warrant its quality, the all new stylish, lightweight and comfortable Asics Gel has added the Super J33 to it's range, and is currently reigning as one of the best running shoes for flat feet. Even if running isn't your thing, like the Lunarglide they are great for walking too and the various designs can blend with any outfit. The fitting is perfect, plenty of foot arch support, and general overall build quality make these top rated sneakers.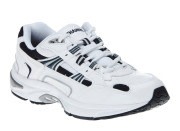 The Vionic with orthaheel technology mens walking shoes are perfect for motion control, featuring a contoured arch support and a deep heel cup that realigns your stride. The flat footed overpronation is better controlled due to the complex podiatrist influenced design. Though the aesthetics may not be everyone's cup of tea, in fairness they could be much worse, and for the price your feet get plenty of pleasure for the money so looks may have been sacrificed slightly. These are a good pair of flat feet shoes which are built to last whilst also providing great comfort and support which is hard to rival.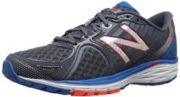 New Balance are known for their comfort, fit and support, which is why they are also known for producing some of the best running shoes for flat feet. Although it's called the 1260v3, the M1260v3 is for men and the W1260v3 is for women. New Balance intended the 1260v3 to be lightweight and you are sure to notice when you slip them on because they only weigh a total of 10.8 ounces. They come with a rubber sole for increased traction and the collar is composed of a dual density soft foam which presses against a more firm foam to create plenty of all round support. The 1260v3 not only functions as perfectly good running shoes but more importantly they will prove to be a more than adequate pair of sneakers for flat feet.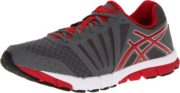 Asics created the Gel Lyte33 2 using a blend of imported synthetic and mesh material. Fallen arches and flat foot pain is bad enough, so by using a rubber sole ensures that every runner or walker, every time, has the utmost traction to avoid unnecessary roll or injury. Featuring a high rebound SpEVA midsole, Asics also placed GEL in the rear foot to provide an amazing amount of cushion and shock adsorption to take the pressure off the arch pain. There is a guidance line flex groove improving gait and adding stability whether you choose to walk or run. Asics used their F.A.S.T. technology to provide a racing flat geometry and a minimal outsole in the high abrasion areas; F.A.S.T. technology also causes the sneakers to hug your foot and create a padded and comforting feeling giving you the confidence to forget about your arch and flat foot pain.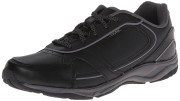 If you have plantar fasciitis, low arches, or overpronate, the Vionic Zen womens walking shoes will feel great on your feet. The specially podiatrist designed orthaheel technology is second to none; it fits snug and pads every millimeter of your foot, offering that all important stability and pain relief. Compared to other Vionic shoes these are actually very good looking. Although they are advertised as womens they can actually be worn by men too based on their relatively unisex external design, though they may run a tad small for males so purchasing a size bigger would be a good idea. For anyone seeking a pair of the best walking shoes for flat feet, the Vionic Zen is certainly a recommended purchase at a low price.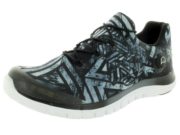 The hugely popular Reebok ZPump Fusion is made of mesh material for great breathability. Reebok installed their pump technology to ensure that you have the most comfortable running experience possible whilst alleviating flat foot pain. The rubber sole ensures that you will have great traction no matter what terrain your training takes you across. The sockliner is enhanced with 5.0mm cushioning offering superior comfort and fit with plenty of arch support. The midsole was created using lightweight material that is designed to withstand all day wear and tear which will be hard pushed to penetrate through to your sensitive feet. Overall these are a great pair of cheap sneakers for flat feet.
Conclusion
Usually we struggle to choose one single shoe to favor and recommend, and today's conclusion is no different. Thankfully it's slightly easier to break down because we have 2 different types in question which are 1) for walking, and 2) for running.
To begin, our best running shoes for flat feet are the Saucony Hurricane 15. The simplistic outer design and beautiful aesthetics is only a disguise for this complex engineered running shoe. Also, available in almost every color and combination under the rainbow makes this appealing for people with different tastes. However it's not just the aesthetics of course, more importantly it's the support and comfort, the lightweight and perfect fit around every part of your foot, which makes the Saucony Hurricane 15 an ideal purchase.
The second part of our conclusion discusses the best walking shoes for flat feet, which we believe is the Brooks Addiction. These stylish pair fit like a glove; made with a leather upper and feature an orthotic footbed with a deep heel cup, causing the footbed to realign the feet back to its natural position. With ample arch support in the correct area, the Brooks Addiction is perfect for reducing pressure on the feet, ankles, and knees. The synthetic outsole is durable and comes with a flex groove patterned tread which offers the perfect grip on different surfaces hence making walking a pleasure, wherever you walk in any weather conditions.
Share This