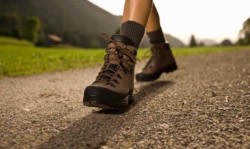 Hiking has become one of the most popular adventures that people take nowadays. Nothing compares to the feeling of being with nature and breathing fresh air. The silence and serenity that the woods can offer is like an escape to the chaos of the city life.
However, certain preparations must be made before going to the desired location. If you are a first timer or beginner, you must buy the proper apparel and equipment that you need to bring for the trail. You must also be physically fit to endure the heat of the sun and the coldness of the night in case you're planning to spend a night on the mountains. Most hikes involve a lot of walking so you must consider the shoes that you wear that will offer you the most comfort and convenience.
With the many choices of footwear in the shopping malls, it can be hard to choose what is really best for you. Hiking boots should match your bodily need for maximum comfort, stability, move with ease and support not just in the feet but for the whole body while walking the trail. There are a lot of factors to look into before knowing if the boots are good for you. Therefore, to make things easier we have done the research for you and documented the below. Have a read through our hiking boot reviews and buying guide to ensure you're getting the best that money can buy.
The 10 Best Hiking Boots For Men And Women
The Anatomy Of Hiking Boots
Womens hiking boots are inspired from and designed from the basics of what are known as the "last" of the originally designed and manufactured mens hiking boots. They only differ on the lasts. Lasts are the foot shape that boots and shoes are constructed on. Later on the boot manufacturers realized that womens feet form is different from that of a men so they started designing differing shaped boots for women. However, regardless of the gender, choosing the best hiking boots takes the same process. In order to choose properly it's ideal to understand the anatomy of boots:
Sole – This is the bottom of the boot, the one transfixed to the ground and responsible for the protection against objects below. Soles should have a rough pattern so that it will grip harder and dissipate water especially on a soft slippery trail.
Upper – The covering or the face of the boots. It is responsible for holding the foot and protects it from scratches and other harmful insects or even snake bites. This part should be properly attached to the sole.
Inner – These are the padding and the linings inside the boots. This is responsible for the comfort of your feet inside and helps with sweat control. It should repel water and allow perspiration for healthy breathing of the feet.
Lacing – These are the locking mechanism of the boot. The lace should be durable and the lacing style should not easily loosen.
Different Styles For Different Trails
After learning the fundamental parts to look for in choosing the best hiking boots and shoes, you will now learn about the different styles and capacity of the boots that will suit your trails and adventures:
Lightweight – Weighs between 1-3 pounds per pair. Anything in this bracket are considered as

lightweight hiking boots

and are perfect for activities such as day trips and backpacking.
Midweight – Weighs between 2-4 pounds per pair. These are generally the popular option for both women and men, and are considered the best boots for hiking and backpacking due to their all-round performance. They are good for carrying 20-40 pounds of load, and if you are going to travel on a rugged terrain. They are suitable for a wide variety of trails including steep slopes and off trail travel.
Heavyweight – Heavy boots made to last and experience the toughest conditions. Also known as mountaineering boots, these are perfect if you are carrying 40-50 pounds of load through high altitudes or generally unforgiving terrain.
Characteristics Of The Best Hiking Boots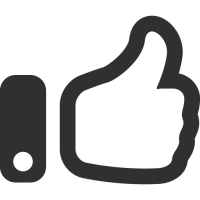 Whether choosing hiking boots for men or women, it's important not to let the aesthetics sway your decision above the more physical and purposed aspects. Consider also the following factors into your choice:
Lightweight – As previously discussed, weight should be an important decider. Choose

lightweight hiking boots

where possible but remembering it must still support your needs. The lighter the boot, the less work for your legs.
Comfortable – The most important factor of all. After all, some backpacking trips and trails can be tens of miles, meaning you'll be wearing those boots for continually long stretches. The most comfortable hiking boots will let you enjoy your time on the trail without feeling like a burden.
Supportive – Select the boot that provides great support on rugged terrain to avoid foot cramps and muscle discomfort. Be sure that the sole accurately support the arches of your feet.
Traction – This refers to the tread patterns on the sole. Choose the tread patterns that have spaced lugs in various patterns because they tend to manage dirt, sand and mud by pushing them out of the bottom and sides with ease, kind of like off-road tires.
Versatile – Adventurous yes, but hikes and even camping can get dangerous at times. A pair of good boots must work best in all weather conditions allowing you to continue on whether it's hiking the Appalachian trail or trekking in Nepal.
Breathable – Finding the balance between waterproof hiking boots and ones with material that will let the perspiration to escape can be quite a task, but it's essential. Breathable footwear is a must for maintaining healthy feet through lengthy hikes, but should you encounter water on your journey the footwear must keep your feet dry.
Durable – As you can imagine, hikes and treks can be rather demanding on not just your body but no doubt on your footwear too. For safety and value, buy one which is sturdy, durable and capable of handling dirt and water without giving in.
Hiking Boot Reviews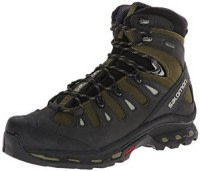 The extremely popular Salomon Quest 4D 2 GTX are an exceptionally comfortable pair of hiking boots for women and men (pictured), which is also ideal for canyoning, backpacking and scrambling. It has enough ankle support to carry even the heaviest loads comfortably. Being equipped with Gore-Tex protection means that your feet stay dry when you cross water yet is breathable enough so you will not have blisters after spending even a number of days on a lengthy trail. It has a gusseted tongue and a mud guard to keep the feet safe on wet grounds. The lacing system is adjustable depending on the kind of situation you are in, and the sole is flexible enough to give you stability on unexpectedly rough terrain. The traction is made of multi-directional lines that offers superior grip on slippery rocks and wet soil. Overall this is one of the best hiking boots that money can buy, and should last years of continual usage.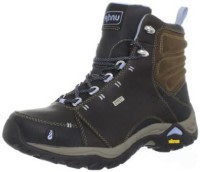 The Ahnu Montara is one of the best hiking boots for women on sale 2017. Its comfort, fit and weight is similar to that of shoes, but with the added traction, protection and stability of a boot. It offers exceptional water resistance with 5" ankle height and can provide you comfort mile after mile. The midsole of the Montara is made with a dual density EVA that cushions and allows flexibility on the heels. The pig leather surrounding the ankle is soft to touch with excellent padding which offers lasting comfort throughout the trail. The tread and its support may be suitable for tough trails but not so good for the tougher trekking or very rugged terrain. If you are confused whether to buy shoes or boots, this is a good choice because it features a combination of the two and suits most terrain for the everyday hiker.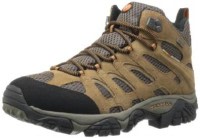 The Merrell Moab Mid is one of the most lightweight hiking boots that you can find on the market. It can work whether in a hot or dry terrain due to the breathable design which will keep your feet comfy, dry and cool, also perfected to dry more quickly when you are walking into streams and rivers. However, whether you opt for the womens or mens version, it has a relatively thin mid-sole that offers less protection in this area against pointed rocks on the trail. Like other footwear in this league, its wide forefoot serves as a stable platform in any terrain. Hikers with hardening feet buy this product not only because of its light weight, but also because it delivers superior support and stability. This product is a great choice among beginners and the occasional hillwalking or light backpacker.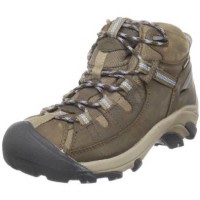 The Targhee II Mid from KEEN offers four wheel drive performance for your feet. The multi-directional tread will give you a steady grip on all kinds of ground so no need to worry about slipping. Not only does it offer a waterproof breathable membrane to keep your feet dry and comfy, the shank provides torsional stability for a secure ride, while the mid cut height increases ankle support through canyons and over mountain tops. These pictured mens hiking boots are an ideal partner for anyone into serious hikes or treks, but also know there are a womens version too. The waterproof membrane has an additional barrier against moisture yet gives breathable comfort all day. Featuring a unique heel-support structure designed to support the feet on impact and prevent ankle injury, it also comes with a patented toe protector that wraps over the outsole for added safety. Additional measures for comfort are achieved by perfect arch support and padding that hugs the contours of your feet, all of which add extra spring to your gait. It has a shank that will stabilize your feet as you move, minimizing the use of strength so you can enjoy every moment of your hike. The Targhee II offers a sleek and sporty style that looks great with any apparel, making it not only one of the most stylish, but overall probably one of the best hiking boots for women and men in 2017.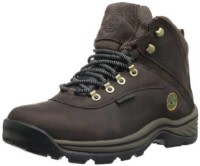 The pictured Timberland White Ledge waterproof hiking boots for men (available in a womens version too) is of its class when used during cold weather, wet or rugged terrain, and carrying heavy loads over long distance hikes. With its advanced footing design it has perfect traction when moving either uphill or downhill, and will provide you with the accurate motion control required for when moving through even the most difficult terrain. The lacing is easy to loop making it quick and simple to put on or remove the boots. The padded collar and tongue shed water effortlessly. It keeps your feet warm and dry in the cold and wet, but additionally allows for perspiration when used in hotter climates. Weighing in at a mere 2 pounds, these lightweight hiking boots are made of tough leather which is durable and abrasion resistant; featuring a waterproof construction keeps water out preserving the dryness of your feet whilst continually providing comfort even after several miles of walking. The Timberland White Ledge is a great option for those who want a versatile boot for occasional hikes.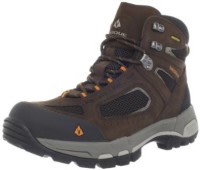 The Vasque Breeze 2.0 GTX is an enhanced version of the original Breeze that was launched in 2004. This revision is lighter and more breathable due to its Gore-Tex waterproof membrane. Its key characteristic is described as somewhat a combination of running shoes and mountain boots due to the lightweight construction, reassuringly stable grip, and additionally capable of protecting your feet from water during the walk. The water proof membrane is breathable allowing the sweaty moisture inside to pass through and block external moisture from getting in. The upper is made of synthetic Airmesh that improves air circulation so your feet will remain cool and dry even after miles of walking. The traction of the boot is good except on frozen areas where it tends to struggle slightly. Overall, the Vasque Breeze 2.0 GTX is a solid boot that provides the maximum support and is comfortable enough to wear for all-day hikes, hillwalking and mild treks.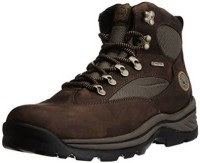 The Timberland Chocorua Trail Gore-Tex is of the most rugged and stylish womens / mens hiking boots on the market right now. It offers a variety of designs and color variations, making it a good choice for any fussy hikers. The exceptionally lightweight Choucorua has a removable, dual-density EVA perforated footbed which keeps air circulation optimal, with additional help from the Gore-Tex membrane which helps in keeping your feet dry from the inside out. It also features an anti-fatigue technology that provides comfort all day. Another good feature of the Chocorua are the three different adjustable loop straps on top of the boot as they provide a proper fit for different foot shapes and types. Combined comfort and durability is hard to find, but the Chocorua has it all. You can still expect the best comfort and support without getting tired after mile upon miles up the trail.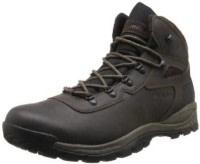 The Columbia Newton Ridge is Columbia's contribution to the leather-synthetic market. Their products are manufactured using the best technology and highest quality of materials so you can expect its product to provide you the optimum comfort and great value. The Newton Ridge is a waterproof boot constructed to protect against things like dew, stream water and showers. It has a breathable mesh that helps ventilate the insole and an Omni-Grip tread that grips the ground confidently. They may be relatively cheap hiking boots in price compared to some other reviews here, but it has a well-built structure suited for most hillwalking, trails and treks. However, if you are looking for a boot that can go through the more difficult tasks like heavy backpacking, winter climbing and alpine terrain, this is not the one for you. It is fairly light and easy to put on and take off, and is made of thin material compared to other boots but it has nylon shanks that fit the heel for utmost support. The Newton Ridge is an above average all rounder available in mens and womens variants which is inexpensive and well suited for the casual day hiker.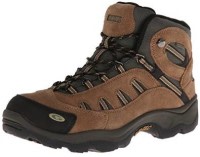 Hi-Tec Sports USA has been in the business since 1978 and they are proven to produce high-quality footwear in every niche. Its products are designed meticulously to give users the utmost comfort, whilst being lightweight and durable. The Hi-Tec Bandera are innovative waterproof hiking boots (for men and women) that offer great comfort on any adventurous getaway. Well known for handling trailblazing, bouldering, lengthy and tough camping trips and rugged terrain, this one maintains the composure along your journey. It has a stylish strap and breathable tongue and an EVA midsole that will absorb the impact as you walk, and a rubber outsole of multi-directional traction that grips the ground well. This pair delivers excellent protection against outside forces and support your feet from down-under. Overall, it is definitely something that can give you the comfortable feeling that you need.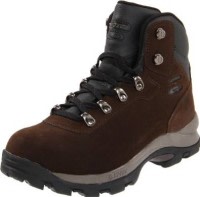 An impressive addition to their portfolio of gear is the High-Tec Altitude IV. A waterproof hiking boot for men comprising of a seam-sealed nubuck leather with a soft padded tongue. The outer sole is made of durable carbon rubber for excellent grip and the inner sole is molded with EVA cushioning that provides comfort on your feet. There is also a Comfort-Tec contoured sock liner to help support feet after miles of walking. The insoles are made of compressible foam that will bounce when taking a step. This boot is good for men who have a high arch and are having a hard time finding footwear that suits their needs. It is ideal for rough mountain terrain, trekking, and hikes over rocky trails. Being a pair of relatively cheap hiking boots compared to most, the quality isn't lacking at all; whether using it on backpacking and camping trips carrying heavy loads over tough terrain the HI-Tec Altitude IV is a good all rounder for those on a budget.
Share This