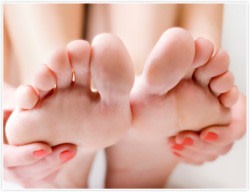 When it comes to plantar fasciitis, relief, prevention and cure is broad, as are the causes and symptoms. However, the cheapest, quickest and most effective treatment is to ensure the correct footwear is always worn. For those lucky enough to have stumbled across this page and have pain-free healthy feet, make sure you're continuing to wear the correct footwear in order to prevent damage to your feet in the future. For those already experiencing arch, foot or heel pain, you'll need to invest in some new sneakers. There are numerous things to look out for when choosing a pair of the best shoes for plantar fasciitis, and it can become overwhelming with all the different brands, choice and technical jargon, but no need to stress because our buying guide summarizes and simplifies everything you need to know.
The Best Shoes For Plantar Fasciitis
Top 10 For Women
Top 10 For Men
Selecting The Best Plantar Fasciitis Shoes
There are plenty of exercises and ways of preventing inflammation but knowing which footwear works well to alleviate stress on the ligament is important. Below we discuss what to look out for when buying any kind of good shoes for plantar fasciitis:
The Ones To Choose:
Running Shoes
In general it's usually the best running shoes for plantar fasciitis from top brands such as the ones reviewed below which tend to manufacture the most purchase worthy. They have invested big money on research and manufacturing their product to provide protection against high impact usage which will in turn provide padding, good arch support, and optimal shock absorption where it matters. Each of the shoe reviews below go into more depth on how they benefit people with symptoms.
Motion Control Shoes
Motion control shoes are ones which are durable and rigid with the purpose of limiting inward rolling of the foot which is known as overpronation. They are perfect for improper foot alignment due to the ability to realign the foot to a natural position which reduces gait abnormalities, and the possibility of wear to other body parts like the knees, hips and lower back. Normally you wouldn't easily be able to identify motion control shoes just by looking at their exterior, so it's worth checking the specification to ensure it caters for this need.
Shoes With Arch Support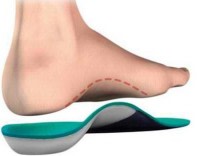 The best shoes for plantar fasciitis and overpronation are ones with good arch support. Look out for shoes which place extra emphasis on this. It's important that the medial arch doesn't become flat else ligament strain will occur midfoot and in other places which will in turn lead to increased pain in the feet. Usually the manufacturer will emphasize the technology or design efforts used to address this characteristics, which most commonly achieved using custom patents.
Heel Cushions
Good heel cushions which provide adequate padding and support is ideal. Many orthotic shoes have state of the art gel cushioning which reduces shock during high pressure impact, and normal usage such as continual walking or running.
Removable Orthotic Inserts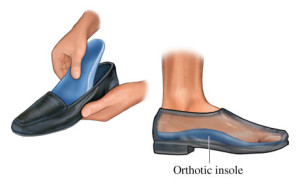 As orthotics are to be worn throughout the duration of your treatment, this characteristic is one which cannot be neglected. When you visit a podiatrist they will almost certainly ask you to buy orthotic friendly shoes, which mean if it has removable insoles it's a bonus because they can be swapped out for the recommended orthotic inserts if the default doesn't quite fit or perform as expected. Also, if the original becomes too worn you can buy specialist insoles to replenish the interior if the exterior is still in good enough condition to keep.
Tough and Durable
The best plantar fasciitis shoes will have minimal bend or twist in the midsole. Too much flexibility gives way to overpronation which is not good. The overpronator will find more comfort from a relatively stiff mold as opposed to flexible.
The Ones To Avoid:
Cheap Alternatives
Avoid buying cheap shoes. It's not so much the price we're concerned about because sales occur all the time, it's the overall quality of budget shoes we're referring to. A number of the options we review below may be some of the most expensive shoes in this niche but there is a valid reason. In reality you really do get what you pay for, and paying for cheapest is not going to help.
Too Soft
Ones which are too flexible should be avoided because they fail to provide the stability and support required to qualify a title as good shoes for overpronation. Valid examples would be materials such as canvas and cheap leather, these should be avoided at all cost.
Don't Be Fooled By Looks
There is plenty of good looking footwear on the market ranging from the Medusa clad Versace sneakers to design aplenty Nike Air Max 90's. However looks should come second in this scenario so don't prioritize fashion; function comes first.
Plantar Fasciitis Shoes Reviews
Most people who suffer from the disorder have had much success in reducing their midfoot and back of heel pain via non-surgical treatments simply by changing their footwear. This is the quickest, cheapest and most effective way forward, and for this reason based on actual verified owner input we have produced below a list of the best shoes for plantar fasciitis. The shoe reviews and pictures below are not gender specific, for example each of the below come in different designs and color combinations to suit both mens and womens fashion needs: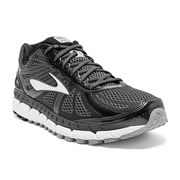 These are Brooks' top of the range motion control shoes; recommended by podiatrists as one of top plantar fasciitis shoes in 2017, they provide excellent performance for the heavy-to-severe overpronator. The Diagonal Rollbar adds rigidity to the forefoot and enhances midfoot support, whilst cushioning is taken care of by the Full-Foot Brooks DNA Cushioning Technology which automatically and physically adapting with each foot strike to provide optimal balance and stability. Highly rated by owners, and considered one of the best shoes in its category by professionals, the Brooks Beast 16 doesn't come cheap but is certainly worth the price tag.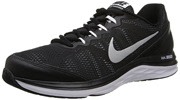 When it comes to Nike plantar fasciitis shoes you will be hard pushed to find anything better than the Dual Fusion Run 3. Available in both mens and womens versions, these overpronation running shoes fit true to size and allow for an utmost comfortable running or walking experience. Made of breathable synthetic and mesh uppers with a rubber sole, there is also a lightweight firm phylon carrier and soft interior phylon core, with a perfect midsole that creates a gently cushioned ride.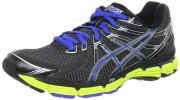 Asics are well known for leading the way in creating running shoes for those who suffer from foot pain. This shoe specific pair for men comes in six color variations. It is made of imported synthetic leather with a rubber sole to again reduce the risks of slips and falls. This particular shoe is specially formulated to help those running with a mild to moderate overpronation. It has an impact guidance system to help guide your foot to the proper placement upon touching the ground. Of course it also offers a front and rear foot GEL cushioning system for comfort which Asics create so perfectly. They also boast that this is one of their lightest shoes they have ever made. The insert is composed of two layers of memory foam that is designed to form to each user's foot so you will actually get a personalized fit.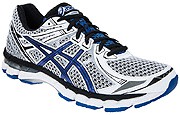 Like the aforementioned GT-2000, the GT-2000 2 is widely accepted as one of the best running shoes for plantar fasciitis due to the good pronation control provided by the guidance line flex grooves. The improved rearfoot and forefoot gel cushioning provides  support and heel pain relief, thus reducing strain on the fascia ligament. Even if you're not into running, these super comfortable sneakers are good for walking or general day to day use, and they even look great too. Highly recommended by the experts and foot pain suffers alike.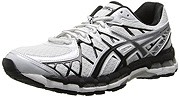 Sharing similar traits of the GT 2000 2 bigger brother, every inch of these Gel Kayano 20 Asics sneakers are designed to perfection for lateral support, foot alignment, comfort and padding. They are extremely light only weighing 11.8 oz, yet still strong enough for more than adequate motion control for the overpronator. The combination of various patented designs make these extremely good plantar fasciitis shoes from a trusted athletics brand.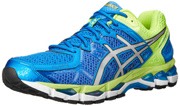 Like the Kayano 20, the newer and revised 21's are also a great pair of plantar fasciitis running shoes for men and women both. The shoe comes in eighteen different colors so you can ensure that you'll find a match for any taste. It is made of an imported synthetic material with a rubber sole to prevent slips and trips. It is specially designed to improve the natural gait (or alignment) and attempts to offer a natural relief from pain such as that arising from the fascia ligament. The included gel insert is easy to remove and replace if need be but offers a great support system for the wearer. The shoe looks great and would fit in with anyone's wardrobe. The heel measures at 1.5" inches, and offers a moisture-wicking sockliner so it is great for those running in warm weather. Whether you opt for the 20 or 21, rest assured you'll be purchasing a product made by one of the best brands in the world.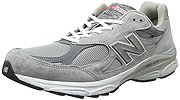 Not only are these built to last, they also provide a medical level of support and comfort with the aesthetics of trendy everyday fashion sneakers. The 990 range is a heritage classic which is under continual improvement, and the latest M990v3 is credit to their line up. Known for alleviating foot problems as a whole due to their pronation control and plenty of effective padding in the removable orthotic insoles, these are definitely a good choice for those who require foot pain relief.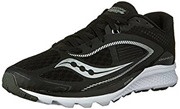 Whether you're after a pair of the best running shoes for plantar fasciitis or for general everyday walking, don't overlook the Saucony Kinvara 7. Not only do these sneakers look awesome, they are highly respected among their verified owners who suffer from various other problems such as fallen arches or severe heel pain, and require specialist shoes for flat feet. This range has become immensely popular due to its ability to offer smooth transitions whilst keeping your feet secure and aligned. Due to continued innovation and development taking place over the years the Saucony Kinvara 7 is a fully equipped for all rounder.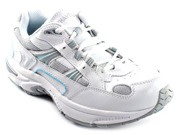 The podiatrist designed Orthaheel motion control shoes force the overpronator to stand and walk correctly which makes it ideal for improving balance and abnormality of gait. The antibacterial removable orthotic inserts have contoured arch support, and a heel cup which realigns the stride, all of which help to allow for walking without discomfort. They have shock absorbing soles and a tough leather upper providing strong support where it's most needed, adding quality and therapeutic benefit to the overall structure of these sneakers. Armed with an American Podiatric Medical Association (APMA) seal of approval, the Orthaheel is one of the best walking shoes for plantar fasciitis to date.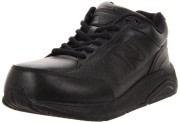 The New Balance MW928 are quite possibly the most comfortable walking shoes in their product range. They are known to offer utmost stability and cushioning thus considered one of the best shoes for overpronation even after mile upon mile of usage. The subtle design looks great and comes in 4 colors to choose from. This model has been around for a number of years but it continues to gain popularity with those experiencing some type of foot arch pain or abnormal gait. The advanced stabilizing rollbar technology is amazingly supportive, and the midfoot cushioning never fails to deliver it's purpose; the MW928 was designed with lateral stability and comfort in mind, which it does very well from the heel to toe box.
Conclusion
Not everyone's circumstances are the same; not everyone experiences the same amount of stress to the fascia ligament and each person has their own pain threshold. Each person may have different lifestyle or habits which is invoking the condition. However, one thing for certain though is ensuring you have the correct sneakers at your ready means whichever scenario or category you find yourself in you'll have no problems to combat and alleviate whatever is causing pains. We've discussed above based on expert and user reviews some of the best shoes for plantar fasciitis and overpronation, however it's your choice now based on budget and design because ultimately they are all cherry picked and top rated which are renowned for being fit for purpose.
Share This